Dreaming of Pentopia
Costas Schuler's quest to collect 1 million pens
by Gabe Meline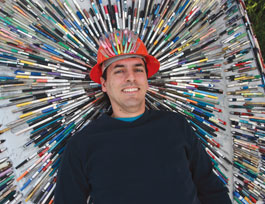 Felt pens. Ray-gun pens. Marks-a-Lot pens. Triangle pens. Bic pens. Flower pens. Sharpie pens. Dinosaur pens. Parker pens. Fine-tip pens. Lipstick pens. Promotional pens. Candy-cane pens. Big pens, small pens.
It all started about five years ago when Costas Schuler woke up one morning with an idea. He trudged out to his clunky 1981 Mercedes-Benz 300SD 126, with a tube of DAP silicone sealant in one hand and 20 pens in the other.
Since then, Schuler's covered every available inch of his car with over 10,000 used, discarded or recycled pens. Why would Schuler undertake such a project? "We all have pens. But when you put a bunch of pens in one area," he dryly motions, "it's humorous."
Aside from saving a bunch of plastic and ink from the landfill, it's as simple as that. Schuler doesn't sell pens. Nor does he put on airs that his pen project is an homage to old media; in fact, Schuler's day job is working at a keyboard all day doing graphic design. Gluing pens to his car was just "a way for me to do something tactile," he says, echoing the physical longing of a virtual generation. Schuler brings his pen-covered car to the Maker Faire in San Mateo this weekend.
Because of his www.penguyart.com page, Schuler gets packages of pens from all over the world, either in the mail or dropped off at community locations. Schuler's currently aiming to collect 1 million pens, and, with any luck, he'll soon be able to mark the North Bay as the recycled pen capital of the world.
"What I love about this country is all these roadside attractions, all these weird things you can go see. I want to create one. It's called Pentopia," he says. "It's a big warehouse, it's this magical place. It looks like nature, with hills and trees, and everything's made out of pens. Think of Willy Wonka's Chocolate Factory—but everything's made of pens. I want to have a pool, a river, but with pens. Maybe like in Vegas, where they have a show every hour, I want to do a waterfall show, with pens falling every hour. Goofy stuff like that. Just totally explore the fun."
Having clocked 272,000 miles, Schuler's diesel "Mercedes-Pens" is also a way for him to talk to people either in the supermarket parking lot or at the occasional motivational speaking appearance. How can inspiration be derived from an old car covered in pens? "If you see somebody doing something wacky, it might trigger something in you that says, 'Oh, you know what? I had this idea. It's kind of out there, but he did his. I don't feel so weird doing mine,'" Schuler explains.
"I want to give people permission to fulfill their destiny. When you meet people who are walking in their destiny, who are doing what they're meant to do, you're attracted to them. They're lit, they're alive. I want to give that to people."
The Pen Guy will be at the Maker Faire Saturday &–Sunday, May 22&–23, at the San Mateo County Expo Center,1346 Saratoga Drive, San Mateo. makerfaire.com.
Article Via Bohemian